Hey Dolls,
I don't know about you guys, but I'm ready for spring! This crazy rainy, sunny weather has been driving me insane. Especially, when it comes to deciding what to wear in the morning. The questions I ask myself are; should I wear something warm? Or should I wear something not so warm because it will get hot later on? When I think of spring I think of flowers don't you guys? I have not had a chance to see the flowers yet with all this fluctuating weather. This brings me to my point, if there are no flowers, then incorporate the floral into your wardrobe! I have sorted out a 3 part outfit post that consist of a floral piece mixed into warm clothes for that rainy weather. Hopefully this helps out the morning dilemmas!
Floral in the Runway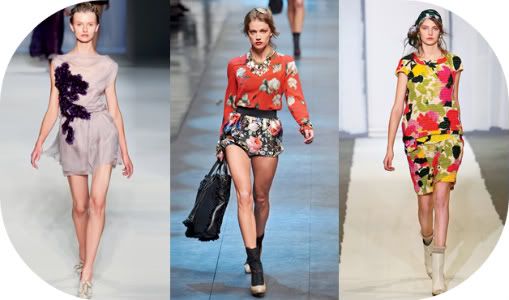 Spring Shower outfit Take 1 (It's spring in my heart)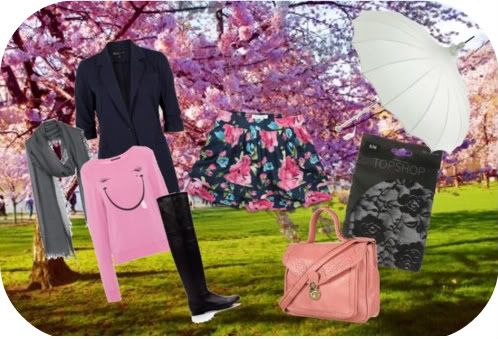 Items:




Blazer:

If you aren't into rain coats or big sweaters then here is your alternative! You can never go wrong with a blazer. They are warm and give any outfit a sophisticated look.


Gray scarf:

Gray is the new black…or close enough. It goes with anything! It tones down any crazy colors you already have going on in your outfit.


Graphic tee

: You would never mix a casual tee with a floral skirt? WHY NOT?! The different patterns complement each other in such a way, that it gives your outfit a nice casual comfortable look and feel.


The Floral

:

Here is the floral piece that you have probably been saving in your closet or would like to add to your closet! Items like these make your outfit scream spring and fun!


Tights:

Trying fun tights like these can really spice up any outfit. You will make people wondering about your chic style! Tights are also great for spring, because they go lovely with skirts, and if it's raining keep your legs warm.


Boots:

These look great with skirts and tights! Don't believe me? Try it. During spring, boots are the best things you can wear on your feet. They protect them from getting wet and keep your outfit looking good.


Purse:

A pink shoulder bag compliments any pink on a floral skirt. Who said you couldn't carry a nice bag to school?


The Umbrella:

An umbrella can also spice up your outfit. Try a see through umbrella to tone down your outfit.
KEEP AN EYE OUT FOR TAKE 2!